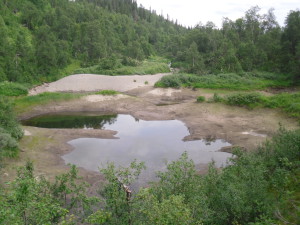 In 1979 the cave enthusiast Bo Lenander was attending an event where speleologists had gathered for an annual meeting in the mountain to examine the many small caves that are in the area. Coincidentally, Bo and a friend passed the little lake that we today call "Dolinsjön," The sinkhole lake, and as they stopped to take a break they saw the nice sandy beach. From where has all this sand come? Bo looked down into the water and thought he saw a small opening at the bottom.
The two friends managed, with the help of a diving mask and a stone, to free dive down to the bottom of the lake and there, on the bottom of the lake, Bo found something that could be the entrance of a cave – slooping down and with sand almost filling it up. Over the sand he could see a black space behind. Bo brought his Nikonos camera and took some pictures.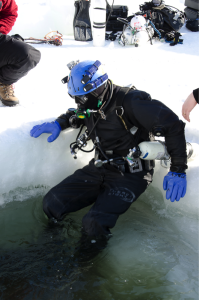 The event was forgotten but in the summer of 1997 a film and dive crew that had heard of Bo´s finding went to the area to try to find out more. But it proved to be impossible to swim up to the crack due to the really hard current and the team had to give up their attempts.
In 2007 a new generation of cave divers had heard of the previous attempts to explore the lake and a small team decided to make an attempt during winter time when the current is low. Several dives were made in nearby smaller caves but the year after, after sawing through one meter of ice and by using a shovel to remove enough gravel to be able to squeeze trough the tight opening, the team was astonished. Behind the small crack at the bottom of the lake was the entrance to the cave that has proved to be Swedens longest underwater cave!
33 years after Bo´s findings in the lake and at the age of 66, he finally got to see the inside of the cave entrance that he once discovered. Bo is now a regular member of the team and it is thanks to his amazing skills in radio direction finding that we are able to pinpoint areas of the cave from the surface.