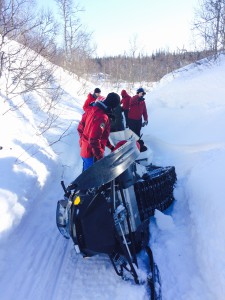 Great success in todays diving. We have several teams pushing the cave in different directions and that makes the exploring even faster. At our daily meeting today we estimate todays findings to about 250-300 meters, as soon as we get all mapping data in there will be an update of the exact length.
We had a small incident on the way up to the dive site with one of the heavy loaded snow mobiles turning over to the side, fortunately no one was injured.
To day we had company from a film crew that is making a small documentary for one of our sponsors – Klättermusen. The crew will be joining us for a couple of days on the mountain to follow the expedition and be a part of our adventure.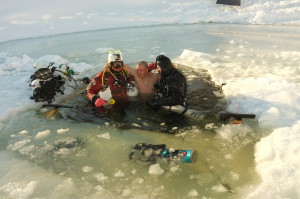 The beautiful day full of sunshine ended with the premier of the portable sauna and skinny dipping on the dive site. 
Day 3 – Even more cave and skinny dipping