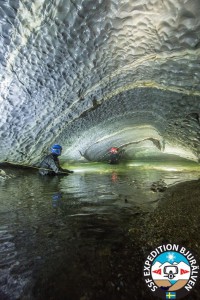 Not the best weather today but great diving. The push team managed to get to end of line and add another reel of fresh line, extending and mapping the cave almost 100 meters. Tanks are left in the dry section so tomorrow we will attempt to get even further. The tunnels at the end of line are really big, up to 10 meters wide and 3-4 meters in height.
Other teams worked on enhancing the guide line and replacing the fix points, that are bolted in the cave for reference, to new stainless steel.
The team working in the entrance cave placed three fix points that will be located by radio tracking tomorrow.