20 cm snow hade fallen during the night and was still falling when we went to the mountain. Over the bridge where we use to pass the snow made it hard for the heavy scooters loaded with gear to pass and we got stuk. We all hade to push and dig our way through to be able to carry on.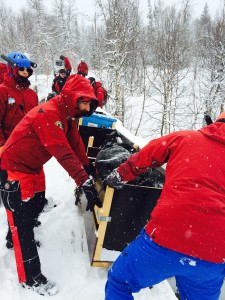 Once we got to the dive site the sun came out and the weather was mild. Today the focus was for us all to dive, new divers to get familiar with the cave and the more experienced divers to make sure the line was okey -if not, to replace it, and bring in all the safety tanks.
After the first dives and lunch some of us went for a walk with our snow shoes over the mountain – along the cave. We made sure the small path for tracking the divers from the surface was visible after the nights snowfall and we went all the way to end of line where the last tracking point is placed. In a day or two all the arrangements will be done for the first teams to start exploring unknown parts of the cave.
Day two – the diving begins