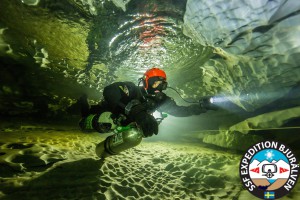 Suddenly today catches up with us and it was time for our every year meeting with the locals to present the exploration and new information from this years expedition. It was popular event and we got a lot of questions from the visitors.
We also had international visitors on the mountain today. They had never seen and heard anything about cave diving before, especially not in the nordics, so they where amazed to watch the divers go under the ice.
The divers that yesterday was exploring the upstream patch went back to the same place today where they put in another 50 meters of new line and mapped it, witch means that we have reached +300 meters this year. We also filmed the cave system with a new 3d software witch gives us the opportunity to follow the cave in a whole new dimension.
Meeting with the locals and more cave explored